My love is like a red red rose,
That's newly sprung in June,
O my love is like the melody,
That's sweetly played in tune.
Robert Burns 1794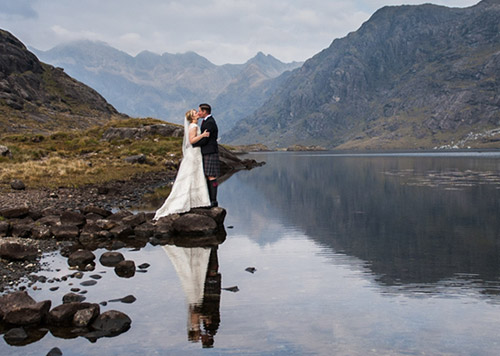 Your fairy tale wedding starts here
With love in your hearts, let us whisk you away to one of the Scottish Highlands' most dramatic and romantic locations - Loch Coruisk on the magical Isle of Skye. Nestled in the heart of the Cuillin Mountains , Skye's spectacular scenery will take your breath away. It's beauty, tranquillity and romantic setting is the perfect place for your marriage ceremony.
With a choice of traditional boats and our on-board facilities, including an all-weather canopy and heated wheelhouse, we can cater for small wedding parties as well as much larger numbers of guests. Private charter sailings with sole use of the boat as well as scheduled sailings are available to suit your budget. Refreshments are available on board, with champagne, whisky and canapés if you wish.

If you need any information to help organise your special wedding day, we can help with a celebrant/minister, a piper, accommodation overlooking the port of Elgol and the mountains, a photographer or even a ceilidh band! Just ask, we are happy to help.

Bella Jane Boat Trips…….memories are made with us.